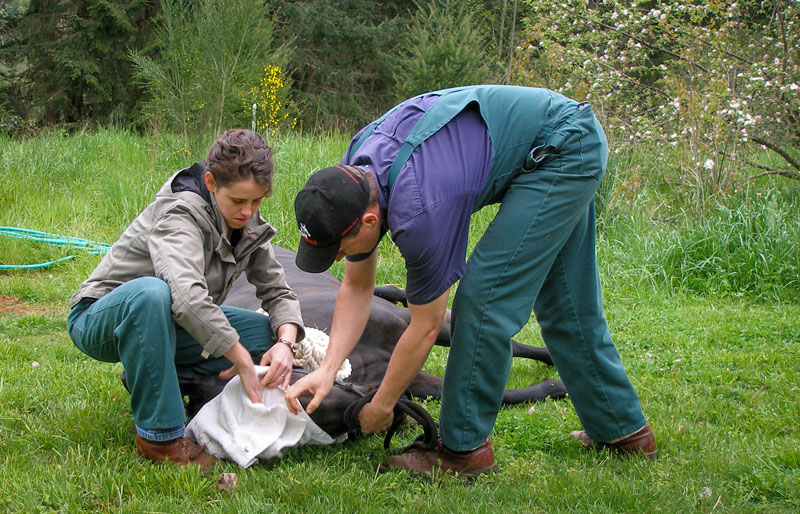 Rogers Veterinary Service was established in July 2010 by the husband-and-wife team of Drs. Keelan and Annika Rogers. We understand the important role your farm animal or pet plays in your life, and are dedicated to becoming your partner in their health care. We treat your farm animals and pets as we would our own. Our goal and commitment is to provide the highest level of quality service and veterinary care with compassion and a personal approach. The entire Rogers Veterinary Service team is here to serve you. Give us a call!
---
Our Staff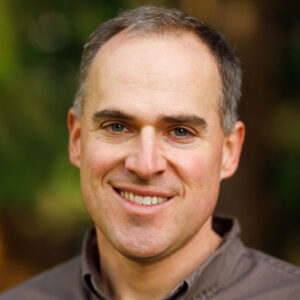 KEELAN ROGERS
Doctor of Veterinary Medicine
Keelan is the co-founder of Rogers Veterinary Service. He is a native Oregonian, having grown up near Eugene. He participated in the Eugene Pony Club in middle school, and through high school devoted a significant portion of his time to training horses and working on small farms in the community. It was during this time that he began to develop an interest in veterinary medicine. He attended Oregon State University and earned his bachelor's degree in animal science in 2003. While at OSU, he became involved in the OSU Polo Club and the Army ROTC. Shortly after graduation, his Army National Guard unit was deployed to Baghdad, Iraq, and he deferred attending vet school while deployed. He safely returned from Iraq and graduated from OSU's College of Veterinary Medicine in 2009. After graduation, he had the pleasure of working at a small mixed-animal clinic in Eugene for several months before undertaking the adventure of starting Rogers Veterinary Service with his wife, Annika. He enjoys working with all animals, but especially horses and assisting livestock producers. Equine dentistry is among his areas of specialty. Keelan retired from the Oregon Army National Guard in May 2019 after 20 years of service. He stays busy at his Philomath-area home helping Annika raise their three daughters, Elizabeth, Lydia and Hannah, and caring for their two horses, along with a goat, dog and cat. For recreation, he enjoys working on the Kessi Family ranch in Harlan and participating in outdoor activities.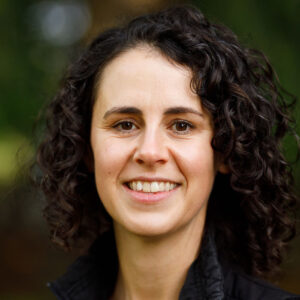 ANNIKA ROGERS
Doctor of Veterinary Medicine
Annika is the co-founder of Rogers Veterinary Service. She is a native Oregonian and grew up on a ranch in Harlan, a community in the Coast Range west of Corvallis. Caring for her family's cattle and managing her own flock of sheep for many years instilled in her a deep appreciation for livestock production. She was also an active 4-H member in Benton County for nine years. During that time she raised several market steers and lambs, developed a purebred Southdown flock, and trained and showed several horses, including her Appaloosa mare, Mauni. It was while working on her family's ranch and participating in 4-H that she first developed an interest in becoming a veterinarian. However, her final decision to pursue vet school was made after a trip to Mongolia in 2000 introduced her to the idea of veterinary missions. She then earned her bachelor's degree in animal science from Oregon State University in 2004 and a Doctor of Veterinary Medicine in 2008, also from OSU. After practicing in Corvallis for about a year at a mixed-animal clinic, she joined Keelan, her husband, in working at a practice in Eugene for several months. In July 2010, Annika and Keelan started Rogers Veterinary Service. Annika enjoys the variety of a mixed-animal practice and working with any animal, but is particularly interested in sheep and goat medicine, cattle production medicine, and equine dentistry. Annika currently stays busy at home helping raise her and Keelan's three daughters, Elizabeth, Lydia and Hannah, but remains actively involved in the practice by assisting with overall practice management, by seeing occasional clients and patients, researching cases, and supporting staff. The family lives in Philomath and has two horses, a goat, a dog and a cat. In her spare time, she enjoys family time, playing with her horses, and continuing to work on her family's ranch in Harlan.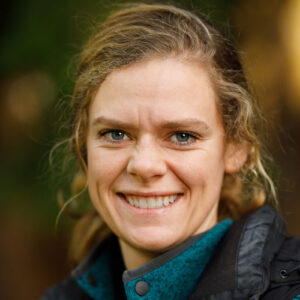 ARIELLE DVORAK
Doctor of Veterinary Medicine
Arielle joined Rogers Veterinary Service in July 2019 after graduating from Oregon State University's Carlson College of Veterinary Medicine in June of the same year. A native Oregonian, Arielle grew up in the South Salem area and participated in 4-H as a youth. She wanted to become a veterinarian since she was a child and continues to be interested in the profession because of how much there is to learn. Arielle also loves veterinary medicine's international opportunities and how it can help rural communities. Arielle graduated from OSU with a Bachelor of Animal Sciences degree in 2014. While she enjoys working with all types of pets and livestock, she says cattle are her favorite. "I like that the cattle industry is so diverse and also that cattle are a symbol of traditional agriculture to me," she notes. In her free time, Arielle enjoys traveling, volunteering at her church, scuba diving, backpacking, camping and rafting. She spent three months studying abroad in Chile, and traveled for three months in Chile, Argentina and Peru. Arielle also spent two months in India — one month on a veterinary clinical exchange and one month on a mission trip. Arielle lives in Tangent with her husband, Mark, their two dogs, and two cats.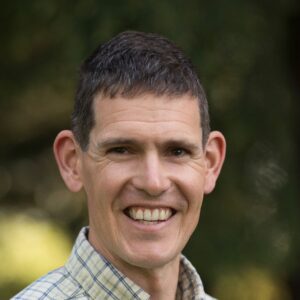 KEN STRAWN
Doctor of Veterinary Medicine
Ken joined Rogers Veterinary Service in December 2021. Following his graduation from the Kansas State University College of Veterinary Medicine in 2014, Ken served in the U.S. Army Veterinary Corps for six years, with assignments in Washington and Arizona. He and his family returned to western Oregon in May 2020 to settle down near their extended families. A native Oregonian, Ken grew up east of Salem, where he was involved in 4-H and raised a small herd of beef cattle and a flock of sheep to provide meat for family and friends. He later graduated from Oregon State University in 2009 with a Bachelor of Animal Science degree. Ken's interest in veterinary medicine was sparked by working alongside the family's veterinarian while growing up, noting that "he had a great sense of humor and was always willing to teach and explain things." Ken enjoys working with all types of pets and livestock, but says he is particularly fond of goats "due to their unique personalities and adaptability." Ken lives near Monmouth with his wife, Rainie, and their children, Rosie, Jonah, Peter and Daniel. The family enjoys raising meat goats and working on Rainie's family's farm and timber operation. In his free time, Ken also enjoys hiking and spending time outdoors with his family.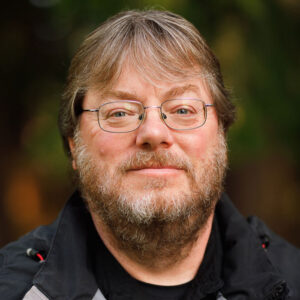 KURT HOLLAND
In-Field Veterinary Assistant
Kurt joined Rogers Veterinary Service in June 2015 after spending the previous 27 years working for several Oregon newspapers as a writer, reporter, editor, page designer and newsroom manager. A native Oregonian, Kurt grew up on a small farm outside of Gresham, where his family had horses, cows, chickens, dogs and cats. He participated in FFA while in high school. Kurt graduated from Oregon State University with a bachelor's degree in technical journalism and has a double minor in general agriculture (animal science/agricultural business management emphasis) and business management. He and his wife, Sandra, have a 12.5-acre "hobby farm" in the Kings Valley area, where they raise purebred Black Angus beef cattle and chickens. They also enjoy gardening and taking care of Blackie, their cat. Kurt is a big sports fan, particularly of the OSU Beavers, and regularly attends football, men's and women's basketball, and baseball games with his wife when not busy at work or at home. He and Sandra enjoy attending concerts, spending time at the Oregon Coast, and taking trips to Central Oregon and Idaho.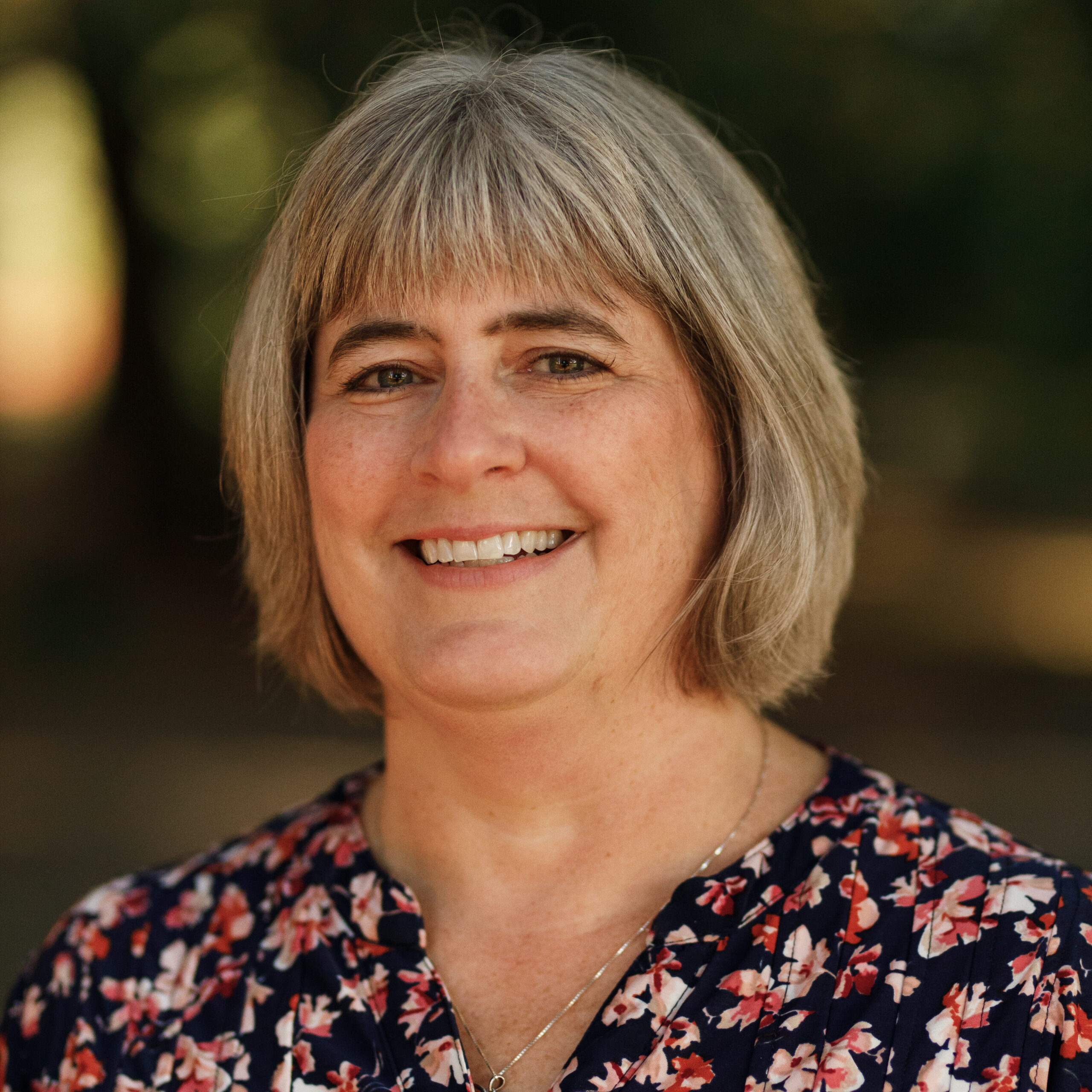 LEANNE SCHUETZE
Lead Practice Administrator and Practice Assistant
Leanne has worked part time in the Rogers Veterinary Service office since May 2013 after homeschooling her two children. Leanne's first job involved working for her father, who was an equine veterinarian. She raised market lambs as a 4-Her and helped her family raise puppies for Guide Dogs for the Blind. Leanne has always had dogs or cats at home. She was born in Colorado, and lived in New Mexico, California and Alaska before arriving in Oregon. Leanne attended the University of Alaska-Fairbanks, where she studied English, history and Alaskan Native Studies. When not working, she stays busy playing with and chasing after her two grandsons and two dogs, Emma and Denali. She also enjoys trying new recipes — "I will try almost any food once," she says — reading, hiking, camping, and spending time with family. Someday she hopes to learn how to tie flies for fishing. Leanne lives in Albany with her husband, Jacob.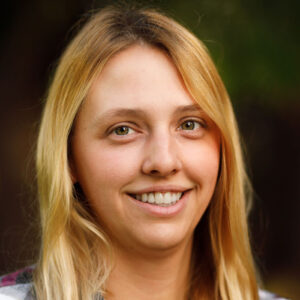 VICKI NEUMAN
In-Field Veterinary Assistant
Vicki joined Rogers Veterinary Service in May 2020 after spending the previous 3 ½ years working for Ark Animal Hospital in Philomath. Vicki is a native Oregonian, grew up in Philomath, and graduated from Philomath High School. She attended Linn-Benton Community College, receiving an Associate of Science degree, and Oregon State University, where she earned a Bachelor of Animal Sciences. She was involved for nine years in Benton County 4-H, showing dogs, swine and beef cattle. It was during her 4-H years that Vicki developed a love for animals. "During one of my first years of 4-H, one of my pigs got so sick that he couldn't get up and walk. This was a very scary experience for me," Vicki recalled. "After putting in a call to the vet, having her come out to do an exam, and treatment for a week, my pig was back up and running around. It really inspired me that someone could have so much love, compassion, and knowledge to help during a time of need." She believes that getting to help people by helping their pets is one of the best parts of her job! While she enjoys working with all animals, farm animals are her favorite. She especially enjoys working with cattle. When not busy at RVS, Vicki spends her time gardening, hiking with her Blue-tick Coonhound "Duke" and Golden Retriever "Moose," and kayaking.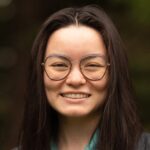 SAMMIE OUCHIDA
In-Field Veterinary Assistant
Sammie joined RVS in November 2022. She is a 2022 graduate of Oregon State University, earning a Bachelor of Science in Kinesiology, and played on the OSU women's lacrosse team for four years. Sammie is a native Oregonian and grew up in Forest Grove. She spent her senior year of high school being the only participant in her school's FFA program to do beekeeping. Sammie says that while she enjoys caring for all species of animals, horses will always have a special place in her heart. "When I was younger I chose to spend much of my free time volunteering at the barn that I not only learned to ride at but eventually where I adopted my horse from," she says. "This barn was not only for casual riding lessons, but instead home to a dedicated hippotherapy program. Helping at this barn and with this program is where my love for horses flourished." Sammie said she enjoys the veterinary field as it allows her to combine her passion for animal care and medicine. She hopes to pursue veterinary school in the future. When not busy at work, Sammie enjoys taking care of her horse, mini donkey and two dogs, cuddling with her cat, doodling, reading, playing video games, and going on field trips to places like the Oregon Zoo and Oregon Coast Aquarium. She and her partner also have two lizards and a fish.
RENEE FRANCISCONI
Office/In-Field Assistant
Renee Francisconi joined Rogers Veterinary Service in April 2023 as an office and field assistant. Renee grew up in the Corvallis area and graduated from Corvallis High School. She participated in 4-H in middle school and high school with her Australian Cattle Dog mix, Ryder. Renee currently resides in the Corvallis area and is a student at Oregon State University. She is working on a double major in Animal Science and Agricultural Science, with an emphasis in Animal Production. "I started working at OSU's Sheep Center my freshman year of college and fell in love with sheep and working with livestock," Renee said. "I have always loved animals and grew up wanting to be able to help them, and plan on entering a career that involves caring for animals." When not busy with work or school, Renee enjoys reading and has a passion for jigsaw puzzles.
---
What to expect when we arrive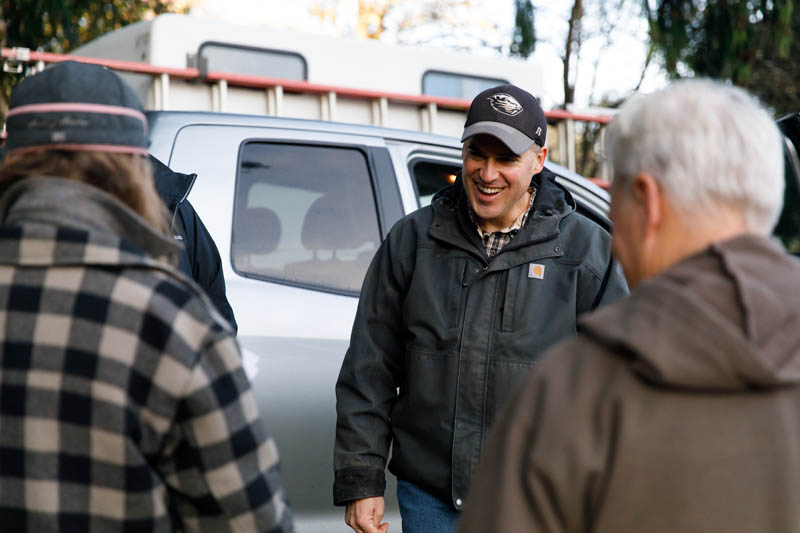 Your visit with Rogers Veterinary Service starts with us coming to you! Here is what to expect:
Two people will typically arrive at your farm or home for your scheduled appointment: a veterinarian and a veterinary assistant. Depending on the patient we are seeing, we come into your stable, barn, or home with a box of basic supplies to begin the examination process.
For horses and other farm animals, it is usually best to have them confined to a stall, holding pen, paddock, or corral area where we have easy access to them upon our arrival. For sheep and goats, having animals confined to a pen is ideal. For cattle, having a squeeze chute or head gate available to safely perform exams and procedures is beneficial, but not necessarily required. Sometimes a holding pen is adequate. Please note that every situation is different and for some animals restraint is impractical. We often provide assistance in assessing the situation and determining the best and safest solution for all involved. If excessive time is required, there may be an additional fee.
We can see your dogs or cats wherever they are most comfortable in an effort to minimize stress, whether that is inside the home, in the garage, on the deck, or in the barn. Oftentimes, we sit or kneel down on the floor at your pet's level to perform our examination. Sometimes we hold your pet or place it on a comfortable chair or on a table, depending on the situation and type of exam or procedure we are performing.
Making sure your pet is accessible is important. Some dogs love company and will come to the door to greet us, but some can be a bit shy or reserved with strangers. In these cases it is helpful to have a leash available, a friendly and familiar face nearby, and to close any escape routes, like a doggie door. For cats, depending on their nature, this might mean confining them to a small room prior to our entering the house and closing off rooms like bedrooms that contain hiding places.
Please let us know about any special needs or concerns you may have regarding the appointment and procedures prior to the examination.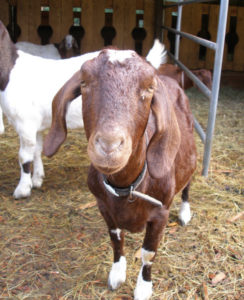 After the examination is complete and any treatments or procedures are performed, your farm animal or pet will already be in the comfort of its normal surroundings and can go about its regular routine. The doctor will answer any remaining questions you may have and discuss any treatment plans needed. The assistant may return to the vehicle to prepare any prescribed medications while the doctor transcribes a medical record and prepares an invoice for services rendered during our visit. Payment is due at time of service. We accept cash, checks, and major credit/debit cards.
Our goal is to build a long-term relationship with you and your animals that will provide you with the best on-the-farm or in-home veterinary service experience.